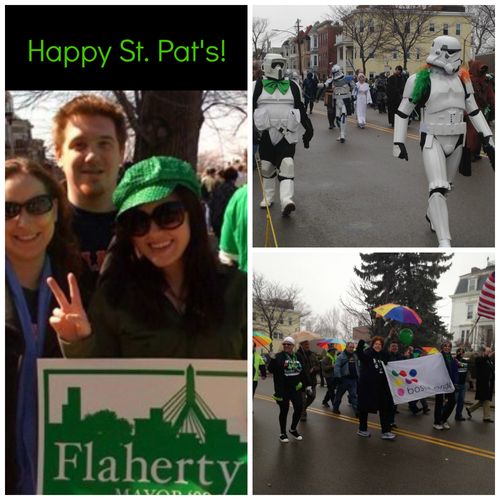 Happy St. Patrick's Day to all my party people.  May your craic be mighty and your shoes stay dry when it rains.  (Cuz if it didn't rain so much, Ireland wouldn't be green.  D'oh!)
I hope everyone is having a lovely time, or at least can sneak in some fun once the work day ends.  I'm working on a new acoustic indie tune I hope to share with you soon but had to take a break to hit the famous (and infamous) South Boston St. Patrick's Day parade.  From Storm Troopers to Step Dancers and a whole lot of green, we had it all!  It rained on our parade but we kept on dancing to welcome our newest guests, Boston Pride and OUTVETS.  With that controversy settled the Mayor and other VIPs were able to rejoin the march, leading to epic high fives and green beads everywhere… until we got three more inches of snow and broke the all-time winter record, so then there was white everywhere AGAIN.
All that dancing and crazy weather required some hearty food so I would love to share my authentic Irish beef stew recipe with you.  It's somehow been "reposted" on the Guinness website.  How funny… I swear I didn't see it there first!  ;)
http://www.guinness-storehouse.com/en/Cooking.aspx
Ireland has always been an inspiration to me.  In 2007 I stayed alone in Dublin and ventured into the North to see the Giant's Causeway.  I didn't fully understand what it would be like to hit the two separate countries in under 12 hours and was surprised when my cell phone lost signal the second I crossed the border.  I had to convert my Euros to Pounds only to change them back again later that day.  Also the (ahem) uniquely Irish sense of time kicked in when my tour that was supposed to end at six PM did… still in Northern Ireland, meaning I had another several hours of no phone and sparse correct currency required to get back to Dublin around midnight.  (Sorry if I put some new grey hairs on anyone's head that night!) 
It was a crazy adventure and I anticipated I would be too exhausted to do anything the next morning but amazingly, I woke up with the entire song "Just Rain" in my head.  I fumbled for a pen while all my instruments and recording gear were on the other side of the world but I captured enough that I could record the song the following year, only to watch it truly make an impact over six years later. 
Ireland is a magical land and I work in a crazy business.  Thank you for sharing the rollercoaster ride with me!