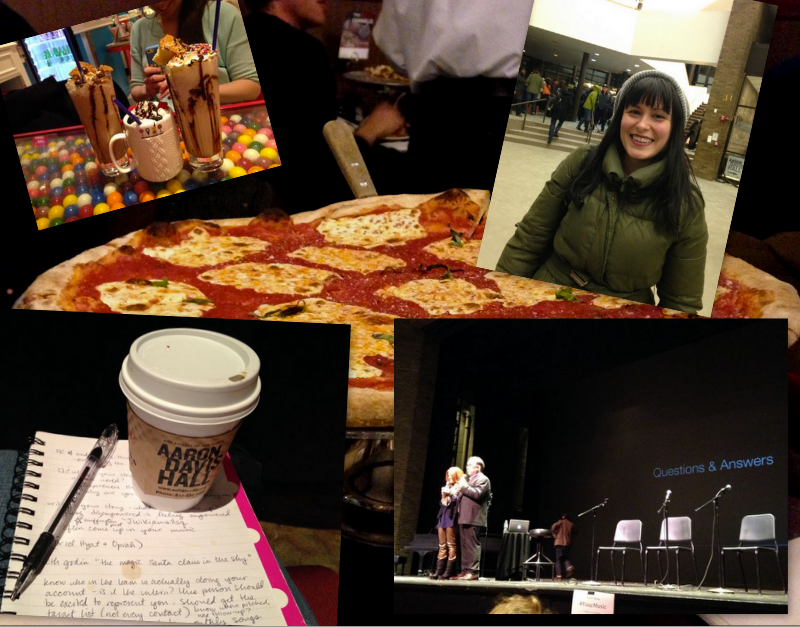 A historic winter.  Fire and brimstone- being used to clear the subway tracks no less.  Snowzilla vs. the third rail.  We are building some character up in this joint for sure...
.
Back in my youth (about three weeks ago), one was able to do crazy things like take public transportation, walk on a sidewalk or visit a friend after dark without fearing an icicle would hit you on the head and knock you into a snowbank where you might be found sometime after July 4th.  I did outrageous things such as go to New York City for a music business seminar and ladies' pizza night.  Here are some highlights of my trip:
.
The conference was hosted by social media wizard Ariel Hyatt and her friend, Emmy award winning composer Michael Whalen, at the Aaron Davis Hall in Harlem.  The event turned out to be not only free but friendly as well.  We sat in a large auditorium facing brick walls that lead to a black stage with a grand piano everyone joked about itching to play.  The first panel cheerily suggested that everyone in the auditorium should introduce themselves to each other because we were "probably the people in our bands who did all the work."  For several hours we learned about the new music industry (which has probably changed since I started writing this *groan*).  We discussed conversation as currency, meaning music that is shared from one fan to several friends can actually increase in value between them because it becomes a shared personal experience.  We also talked about PR strategies, crowd funding and the pros and cons of Youtube.  SESAC's Doreen Ringer Ross even did an inadvertent magic trick of managing to balance almost a dozen torn pieces of paper to symbolize how a song's ownership can get split more ways than well, one can easily balance!
.
I'm proud to say I had a definitively NY moment while there (and no, I'm not just talking about the awesome pizza at Lombardi's in Little Italy- look it up, trust me).  After the usual scrambling to be one of the scrappy few able to ask a question to the panels- New Yorkers move a lot faster than the LA crowd I last saw, yeesh!- I was finally able to get the mic on my third attempt.  I thought I would ask a fairly simple question about what to do after a TV song placement.  But little did I think ahead to realize, I'm asking this of a publicist and there is no way she's gonna let me downplay my accomplishment.
.
Sure enough, Ariel stopped me after my question, and before I knew it I was telling an entire auditorium my name and the name of the television show that picked "Just Rain" and "Ghost Town".  I hadn't planned on something like this when I left for the city at 6 AM, but at this point I was in it to win it.  I started to have a little fun up there because sure enough, after I said the words "Dance Moms" a beat or two passed before I could feel the crowd respond.  In return for this bold step I was honored with claps, business cards passed to me during a break, new twitter buddies and my favorite, a college student working the event who stepped away from his post to congratulate me and wish me a safe trip back to Boston.  
.
Honestly, when the New Yorkers make you feel like you've done good, you buy the pizza, get a nice drink and sit back.  What more is there to life?  ;)
.
.
Got any other tunes that help you feel warm and fuzzy inside?  Write back to me with them and I'll share them in my next mailing!  If you'd like to read more about the conference, fellow attendees have write-ups about what they learned at 
http://cyberprmusic.com/category/blog/
 (scroll down to January 20th).
.
Stay safe and warm!