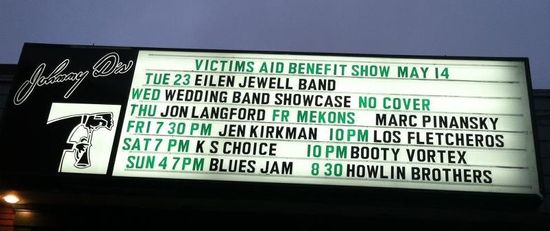 For someone "trying to take a break from gigging and just record" I've been pretty busy lately!  :)

My friends at Johnny D's have organized an excellent benefit concert for Tuesday, May 14th to raise money for the One Fund and who am I to decline playing such an important night?!  I will be one of twenty regional acts (yup, you read that right- TWENTY) donating our time in a show of community and support.  Each act will play for ten minutes, allowing the audience to not only help those harmed in the attacks but to also see a unique sample of some of Boston's best musicians on the same stage. 

Performers will include Barrence Whitfield of Rounder Records, Jason Dunn of the Luxury (who opened for Coldplay at the Garden), Marc Pinansky of Township (who shared the stage with Bad Company at the Pavilion) and Amy Black who I've personally seen rock the stage supporting Chris Isaac.  I'll be playing a rare full-band set and can safely say we will give it our all!

Here's a link for tickets: http://www.ticketweb.com/t3/sale/SaleEventDetail?dispatch=loadSelectionData&eventId=3546134&pl=jds

And the facebook invite: https://www.facebook.com/events/384132168372366/

There will also be a raffle, silent auction and compilation CD of donated local music.  Audiences can order dinner and minors can attend with a parent or guardian if they make a dinner reservation.

I hope you all can make it!  Now, I just have to keep repeating the mantra "I am trying to only record right now" to myself until I am inevitably invited to open for Aerosmith and Carole King at the Garden.  That works, right? ;)

Keep Boston Strong,
-Lauren

P.S. If you can't attend but would like to contribute, here is a link to donate to the One Fund: https://secure.onefundboston.org/page/contribute/default .  If you donate as a result of this, let me know and I'll send you a twitter and facebook shout-out as a thank you!