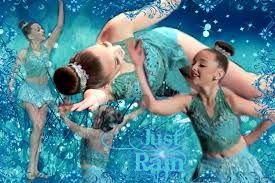 I've been focused on recording my new EP but I have some awesome news I can't wait to share.  The lovely people at Lifetime TV's "Dance Moms" selected my song "Just Rain" to air alongside a choreographed lyric dance routine that was seen by over TWO MILLION VIEWERS.  And the best part is… they played the full vocal version, allowing my singing to reach every one of them!
I learned about the placement by accident when I was on a bus, stuck at a long red light and goofing around online.  I was trying to check a link for one of my websites only to have information about the episode keep overwhelming my search.  (At first, I thought it was the meanest prank ever!)  I rushed to my Mom's so we could watch it together and soon enough we showed it to everybody.  My whole family is overwhelmed by how beautiful Kendall's dancing was and I feel like this unique placement accomplishes an awful lot of my dreams as a singer/songwriter.
The song and performance have tens of thousands of views online and people have made fan art, lyric videos and posted multiple versions.  Some viewers have written in with comments like, "I love this song.  Who is it?"  Only to have a sassy teen correct them: "HeLLoooOOO, it's Lauren Flaherty!  (Duh!)" 
!!!
Here is one of my favorite fan-uploaded versions you can watch.  It shows some of the backstage drama as well as Kendall's fantastic performance.